Hello, I'm Vivienne Oscar – a creative, freelance, mobile hairdresser.
Yes, I can create hairstyles and makeup looks.
But, like adding perfume, I add more – a personal touch – and over 40 years of experience. I also know how to achieve the best results with all types of hair for softness, volume, whatever your needs. Oh, and I listen!
When I create I have you and your ideas in mind.
If you're thinking, Hmmm, I'm after a hair and makeup service like Vivienne's that will make a designer of a difference, then stay here a little longer and check out more about me and what my services have to offer you.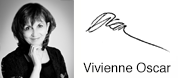 When you're ready or have a question, drop me an email, text or call me on 07733220447.Based in Basingstoke Hampshire.Areas I cover for weddings are Hampshire – Berkshire – Wiltshire – Surrey – Oxfordshire – Buckinghamshire. I can travel anywhere in the UK and abroad.Travel and hotel expenses will apply.